2020 Lecture Series Begins with a Focus on Vision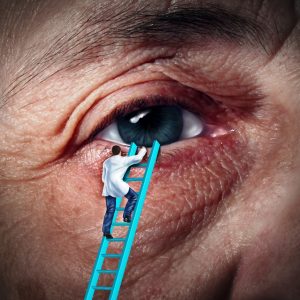 Please join us at 5 p.m. on Tuesday, Jan. 14, in the Cultural Center Theater for a lecture presented by Jeffrey Goldberg, M.D., Ph.D., Professor and Chair of the Ophthalmology Byers Eye Institute at Stanford University.
Dr. Goldberg's clinical efforts are concentrated on patients in need of medical or surgical intervention for glaucoma, cataract, and retinal and optic nerve diseases. His goal is to translate scientific research and discoveries to patient therapies.
His research is focused on neuroprotection and regeneration of retinal ganglion cells (RGCs) and the optic nerve. RGCs are particularly important in relation to glaucoma because they are the cells that are damaged primarily by the disease. Dr. Goldberg's laboratory is developing novel molecular, stem cell and nano-therapeutic approaches to eye repair.
Dr. Goldberg graduated Magna Cum Laude, receiving his B.S. degree from Yale University. He went on to earn his M.D. and Ph.D. from Stanford University. He was named the 2010 Scientist of the Year by the Hope for Vision Foundation and received the Cogan award from the Association of Research in Vision and Ophthalmology in 2012. For more information about Dr. Goldberg, click here.
Don't miss hearing about this exciting new frontier that moves vision restoration from the laboratory to the clinic!
This lecture is generously sponsored by Cynthia & Patrick Lee and Barbara & Emery Olcott. Please join us after the lecture for a cocktail reception and to meet Dr. Goldberg.
For more information about this and the other lectures in the 2020 Lecture Series, please visit the Lecture Series page in the Annual Events menu above.
Medical Center Tip of the Week: It's flu season! Wash your hands regularly, using plenty of soap and warm water. Sing "Happy Birthday" twice to make sure you're doing it long enough.