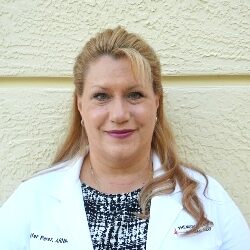 The Medical Center does its best to accommodate appointment requests the same day if possible. However, there are difficult days when schedules are full or an urgent appointment is added to the day.
In an effort to provide our community with an additional Primary Care resource, we offer the Medical Center's Day Clinic. It's designed to offer same-day assistance to address the care needs of those patients who do not have an appointment.
Helmed by Jennifer Perez, APRN (formally Angellili) the Day Clinic is open Monday through Friday from 8 a.m. to 5 p.m. Jennifer has been a part-time APRN at the Center for three seasons and is now a full-time provider. Her extensive background as an emergency room nurse includes four years at Mariners Hospital and three years at Mercy Hospital. New to the Medical Center this season, Sergio Jorganes, RN, supports Jennifer Perez in the Day Clinic. Sergio comes to us from Kendall Regional Medical Center with extensive experience as a paramedic and trauma-trained emergency room nurse.
For patients who prefer not to wait for the next available appointment with their respective provider, the Day Clinic provides an alternative. Just give The Medical Center a call at 305-367-2600 and we'll take care of getting you seen by Jennifer and Sergio.