Fun-Raiser 2018: And the Winners Are …!
It was another home run for the Medical Center's 36th-annual Fun-Raiser! Perfect weather arrived for the March 20 and 21 sporting event of tennis, pickleball and golf. Evening festivities included dinner and dancing to the fantastic sounds of "Soul Survivor," a golf cart auction and a record raffle of $98,000. Below, the 2018 pickleball players give a big "thumbs-up" to the Medical Center!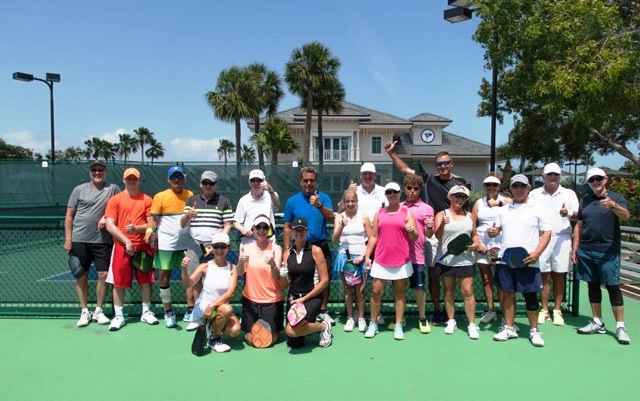 Tournament Results
Card Sound
1st place: Ted and Suzanne Groesbeck, Charles and Linda Johnston
2nd place: Roberta Stokes, Bernie Fernandez, Bill Wonfor and Bill Dickinson
Dolphin Course
1st place: Joe Eastep, Mark Rudner, Eric Schmitt and Andres Bustamante
2nd place: Joe Holl, Brian Rich, Val Rich and David Winchester
Hammock
1st place: Larry and Mary Biddinger, Lee and Linda Westervelt
2nd place: William and Dedie Nutt, Bill Legg and Adelaide Skoglund
Nine-Hole Golf
Bill Carroll, Beth Carrol, Buzz Hilberg and Cindy Hilberg
Tennis
A Flight: Mike Jones and Tricia Holbrook
B Flight: Lorne Price and Claudia Langworthy
Pickleball
Travis Voltz, Nikki Smith, Micheal Betz and Tricia Holbrook
Closest to the Hole
Card Sound: Gino Torretta and Pam Bass
Dolphin Course: Eric Schmitt and Heather Post
Hammock Course: Steve Markell and Denny Morgan
Many, many thanks to all of our hardworking volunteers, Medical Center staff, Premier Sponsor Baptist Health South Florida, our Preferred Partners, Co-Chairs Bill Rowley and Katie Rossborough, and Tim and Cindy Brammer. For a slide show (coming soon) and other information about this year's Fun-Raiser, click here. See you next year!