Tuesday, January 14, 2020
Moving Vision Restoration from Lab to Clinic
Jeffrey Goldberg, M.D., Ph.D.
Professor & Chair, Ophthalmology
Byers Eye Institute
Stanford University
Stanford, California

---
Tuesday, January 28, 2020
Colon Cancer Update: The Good News, the Better News and Some Cause for Concern
James Marion, M.D.
Professor, Gastroenterology
Mount Sinai Medical Center
New York, New York

---
Monday, February 10, 2020
Neurosurgery, Degenerative Spine Disorders, Spinal Tumors, and Complex Spine Reconstruction - Restoration
Ali Bydon, M.D.
Clinical Director, Spine Neurosurgery and Director, Spinal Biomechanics & Surgical Outcomes Laboratory
Johns Hopkins Medicine
Baltimore, Maryland

---
Tuesday, March 10, 2020
COPD: Time to Take a Breath
Atul C. Mehta, M.D.
Past Vice Chairman, Pulmonary, Allergy & Critical Care Medicine
Cleveland Clinic
Cleveland, Ohio

---
Tuesday, April 14, 2020
Neurosurgery, Neuroscience and the Future at Miami Neuroscience Center of Excellence
Michael McDermott, M.D.
Chief Medical Executive
Miami Neuroscience Institute
Baptist Health South Florida
Miami, Florida

Join Us!
The Medical Center at Ocean Reef hosts a series of informative and entertaining lectures by leading members of the healthcare community during the winter and spring of each season. We have an exciting and diverse series of lectures lined up for the 2020 season! Each lecture will be preceded by a news article with details that will appear approximately one week prior to the event. You can check for those articles on this page by clicking on their titles at left. Additionally, the article on the latest lecture is featured in its entirety below.
You can also read the articles from our Past Lectures.
All lectures begin at 5 p.m. at the Cultural Center Theater. For more information about the Lecture Series, email or call us at 305-367-2600. We look forward to seeing you this season!
Our Next Lecture: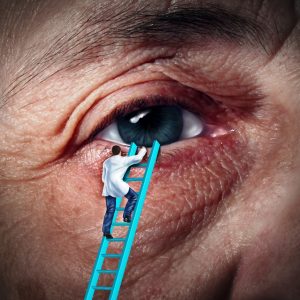 Please join us at 5 p.m. on Tuesday, Jan. 14, in the Cultural Center Theater for a lecture presented by Jeffrey Goldberg, M.D., Ph.D., Professor and Chair of the Ophthalmology Byers Eye Institute at Stanford University. Dr. Goldberg's clinical efforts are concentrated on patients in need of medical or surgical intervention for glaucoma, cataract, and retinal and optic nerve diseases. His goal is to translate scientific research and discoveries to patient therapies. His research is focused on neuroprotection and regeneration of
retinal ganglion cells
(RGCs) and the optic nerve. RGCs are particularly important in relation to glaucoma because they are the cells that are damaged primarily by the disease. Dr. Goldberg's laboratory is developing novel molecular, stem cell and nano-therapeutic approaches to eye repair. Dr. Goldberg graduated Magna Cum Laude, receiving his B.S. degree from Yale University. He went on to earn his M.D. and Ph.D. from Stanford University. He was named the 2010 Scientist of the Year by the Hope for Vision Foundation and received the Cogan award from the Association of Research in Vision and Ophthalmology in 2012. For more information about Dr. Goldberg, click
here
. Don't miss hearing about this exciting new frontier that moves vision restoration from the laboratory to the clinic! This lecture is generously sponsored by Cynthia & Patrick Lee and Barbara & Emery Olcott. Please join us after the lecture for a cocktail reception and to meet Dr. Goldberg. For more information about this and the other lectures in the 2020 Lecture Series, please visit the
Lecture Series page
in the Annual Events menu above.
Medical Center Tip of the Week:
It's flu season! Wash your hands regularly, using plenty of soap and warm water. Sing "Happy Birthday" twice to make sure you're doing it long enough.