Announcing: The Reimagined Boutique D' Reef!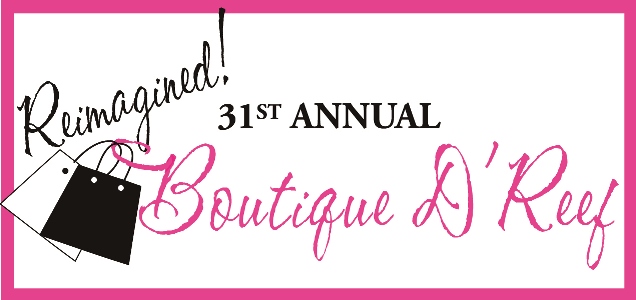 Boutique D' Reef plays an important role for the Medical Center's fund-raising efforts, and while this is an unusual year for everything and everyone, the tradition — now in its 31st year — will continue on a smaller scale with some fabulous shopping opportunities.
From Feb. 28 through March 24, seven alternating Boutique vendors will be at Ocean Reef for private shopping appointments. Each vendor will have two or three days to meet with shoppers. Those vendors will include Carson & Company (botanical silk scarves & apparel), Jennifer Tyler Knitwear (cashmere sweaters), LSC Design Estate Jewelry (estate, vintage and fine jewelry), Gramercy Atelier (special occasion dressing), Charlotte Brody New York (Bespoke women's apparel), Zonnie Sheik (precious-stone fine jewelry) and Daniella Ortiz Design (luxury handbags & accessories).
But that's not all! Additionally, an outdoor patio trunk show will be featured by The Clara Williams Company from March 8 through 11. Private appointments can be scheduled for March 8 or 10, and open shopping times will be available on March 9 and 11.
Even more: For the entire month of March, you can enjoy virtual and Facetime shopping using the special promotional code ORC21. Shop from the comfort of home with these returning favorite vendors: Tulips Little Pop Up Shop, Tugboat & the Bird, Catch All, Trevor Furbay, CALdesign Vintage, Lisa M. Taylor Designs, Hedi Carey and Charleston Shoe Company, Charlotte Brody New York and Daniella Ortiz Design.
Look for a Boutique D' Reef flyer in the mail with all the needed details to make in-person appointments, along with the website and Facetime information for online shopping.
A percentage of all shopping proceeds will go to the Medical Center. We hope you will support this year's Boutique D' Reef as you have in the past. Your support is needed and so very much appreciated, with sincere thanks from The Boutique D'Reef Committee: Adelaide Skoglund, Denny Morgan, Chris Fisher, Kathy Weiland and Cindy Manzo.