April is Parkinson's Disease Awareness Month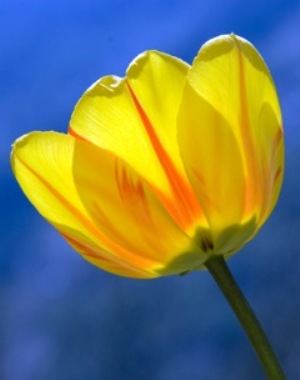 A study released by the Parkinson's Foundation in 2018 found that the prevalence of Parkinson's Disease (PD) is increasing, predicting that an estimated 1.2 million Americans will be living with the disease by 2030. The Parkinson's Disease Foundation uses a yellow tulip to denote optimism and hope. The three petals on the flower reflect the Foundation's three-pointed mission: "Hope through research, education and advocacy."
What is Parkinson's?
In Parkinson's Disease, certain nerve cells (neurons) in the brain gradually break down or die. Many of the symptoms of PD occur due to a loss of neurons that produce a chemical messenger called dopamine. Decreasing dopamine levels cause abnormal brain activity, leading to symptoms of Parkinson's Disease. It often can be hard to diagnose. The cause of Parkinson's Disease is unknown but several factors appear to play a role.
What causes Parkinson's?
According to the National Institutes of Health (NIH), "Several studies suggest environmental influences on Parkinson's Disease. For most people with PD, genes and environment may both contribute — genes load the gun and environmental exposure pulls the trigger."
Fortunately, the Michael J. Fox Foundation for Parkinson's Research is on a mission to find a cure for Parkinson's. Fortune Magazine recently released its sixth-annual list of 50 of the "World's Greatest Leaders," honoring Michael J. Fox as No. 22 and calling him "one of the most respected advocates in medicine."
Parkinson's Resources
Community support groups for PD patients and their caretakers can help to lessen the burden and be a source of practical information. One such group exists right here at Ocean Reef and meets several times each season in the Medical Center's second floor conference room. Representatives from the Michael J. Fox Foundation attended the March meeting and shared valuable information concerning latest research and advancements. If you're interesting in attending the meetings or learning more, meeting times are posted in the Ocean Reef Free Press or you may contact Allen Krowe.