CoolSculpting Event: Wednesday, Feb. 7 at the Medical Center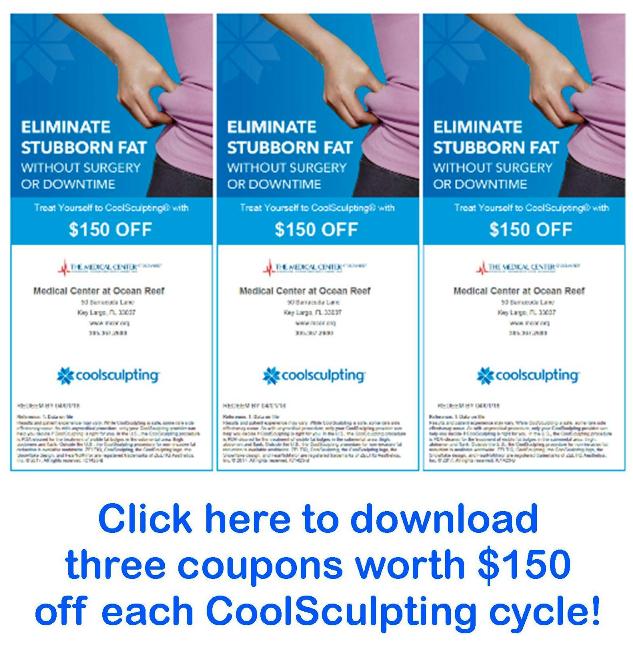 You're invited to a CoolSculpting event on Wednesday, Feb. 7, at the Medical Center. Call today to reserve your space for a personal consultation and to receive $150 off your first CoolSculpting treatment!
Many of us have stubborn fat that won't go away no matter how much exercise and dieting we do. There are several different ways to try to do something about this. Some people use body contouring wraps for example. Depending on what works for you, you may have tried one or more of these solutions already.
The CoolSculpting procedure eliminates that fat safely and effectively, without surgery or downtime. This fat-reduction treatment is the only FDA-cleared procedure to use controlled cooling to safely target and eliminate diet- and exercise-resistant fat. CoolSculpting results are proven, noticeable, and lasting, so you'll look and feel great from every angle.
Freeze away fat? It comes down to science. Fat cells freeze at higher temperatures than surrounding tissues. CoolSculpting technology safely delivers precisely controlled cooling to gently and effectively target the fat cells underneath the skin. The treated fat cells are crystallized (frozen), and then die. Over time, your body naturally processes the fat and eliminates these dead cells, leaving a more sculpted you.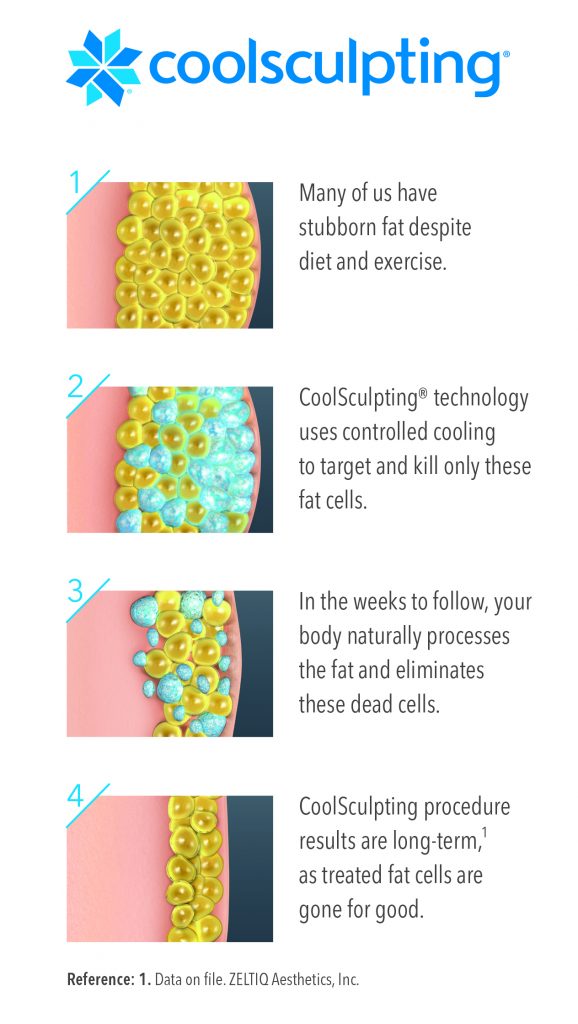 You can reshape your body! We will develop a customized CoolSculpting treatment plan that addresses your problem areas. Additional sessions may further enhance your results. Your individualized treatment plan will be tailored to your body, your goals, and your budget. It's easy to sit back, relax and say goodbye to stubborn fat. After we select the area(s) to be treated, the device is positioned on your body and controlled cooling is applied. During your procedure, you may choose to read, check email, or even take a nap. The CoolSculpting fat-freezing procedure is completely non-surgical, so you can typically return to work and normal activities immediately.
Here are a few frequently asked questions about CoolSculpting:
Q: What is Coolsculpting?
A: CoolSculpting is a fat-freezing procedure that is FDA-cleared for non-surgical fat reduction treatment using a controlled cooling technology to eliminate stubborn fat.
Q: Can it reduce fat anywhere on my body?
A: In the U.S., the Coolsculpting procedure is cleared for the treatment of fat bulges in the areas of the thigh, abdomen, flank, back, just under the buttock area and under the chin.
Q: What happens to the fat?
A: The treated cells crystallize and die. They are naturally processed and eliminated from the body. Once treated, those fat cells are permanently gone.
Q: What are the post-treatment side effects?
A: Typical side effects include temporary redness, swelling, bruising, numbness and tenderness. These effects are temporary and generally resolve within days or weeks.
Q: How many treatments do I need?
A: Everyone's body is different. It may take as little as one treatment to achieve your individual goal. Your clinician will work with you on the best treatment plan.
Q: When will I see results?
A: You may start to see changes within three weeks. This is a gradual process, and changes continue to take place over one to three months.
Space is limited at the Feb. 7 event, so please call 305-367-2600 now to reserve your place. For more information about CoolSculpting services at the Medical Center, click here.