Ladies Night Out Wed., Jan. 17, with Jill S. Waibel, M.D.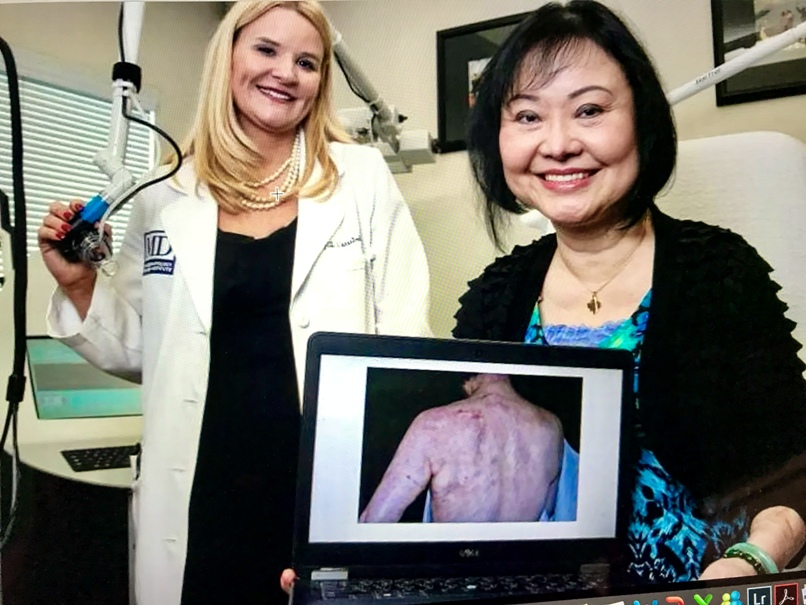 Forty-three years ago a shocking photo from the Vietnam War showed a naked 9-year-old Vietnamese girl covered in napalm, burning and running down a road. With more than a third of her body burned, it created scar tissue four times the thickness of her skin. After a grueling two years in the hospital, Kim Phuc survived the horrific event.
Fast-forwarding decades later, the now 52-year-old's scar tissue has been successfully treated by Dermatologist Jill S. Waibel, M.D., with the use of lasers. Dr. Waibel and Ms. Phuc are pictured at right.
"Having the ability to take care of these patients who face much more difficult roads than the average patient is an honor, and I see it as a responsibility of mine," Dr. Waibel said.
Please join the Medical Center in welcoming Dr. Waibel to Ladies Night Out next Wednesday, Jan. 17. Dr. Waibel, who will discuss the latest cutaneous laser technologies, is owner and medical director of Miami Dermatology and Laser Institute, and subsection chief of Dermatology at Baptist Hospital.
Dr. Waibel has successfully developed industry-leading procedures and techniques with lasers and has received numerous awards for her medical contributions, including the 2016 JDD Humanitarian Awardfor her innovate work using lasers to treat traumatic burn injuries.
The use of lasers in cosmetic dermatology can improve skin texture, wrinkles, rosacea and a variety of other skin conditions. Beginning this year, Dr. Waibel will be bringing her laser treatments to the Medical Center.
Please RSVP to 305-367-6777 to attend our Ladies Night Out evening with Dr. Waibel, along with cocktails and hors d'oeuvres, from 5 to 7 p.m. at the Medical Center. Ladies only — but don't worry men, Men's Night Out is coming Feb. 27! Stay tuned for news about that event.
Mark your calendar for the next lecture in the 2018 Medical Lecture Series: "Preserving and Restoring Your Vision," presented by Bascom Palmer Eye Institute, Tuesday, Jan. 30 at the Cultural Center Theatre. Click here for details. See you there!