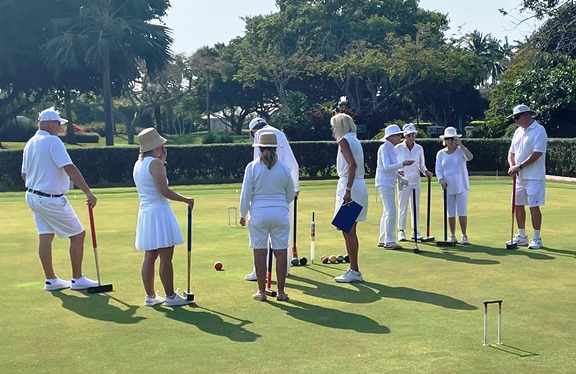 Rain in the forecast with cloudy and windy conditions didn't deter this year's sporting events. Participation was up over 20 percent this year compared to last year. Such great community support for the Medical Center!
And the Winners Are:
18-Hole Golf:
Card Sound
1st place: Katie & Bill Miller, Amy & George Joseph
2nd place: Cindy & Bob Manzo, Katie Rossborough & Bill Rowley
Dolphin Course
1st place: Stacy & Benny Scott, Laura & John Reed
2nd place: Beth & Geoff Noyes, Andy Woodman
Hammock Course
1st place: Darla & Larry Finley, Mariann Florio, Cal Philips
2nd place: Brad Williams, Doug Totura, Alex Adams, Cristian LeCapra
Nine-Hole Golf
1st place: Bill Wonfor, Kathy White, Francesca Johnson, Brian Keeley
2nd place: Penny & Drew Cunningham, Laura & Ignacio Sanchez
Closest to the Hole
Card Sound: Chris Hodgkins, Katie Rossborough
Dolphin Course: Benny Scott
Hammock Course: Larry Finley
Nine Hole: Janice Crowley & Bill Wonfor
Tennis
A Flight: Ginger Pearson, Andy Hoffman
B Flight: Carolyn Allen, Lorne Price
Women's Pickleball
1st place: Ashley Rowe
2nd place: Jackie Urbinati
Men's Pickleball
1st place: Richard Wilson
2nd place: Doug Hynden
Croquet
1st place: Judy & Jerry Jared
2nd place: Ginger Ringdahl-Knapp & Eleanor Williamson
Consolation Champions: Betsy Caldwell & Glenn Gormley
Raffle
First prize ($10,000): Antonio Marks
Second prize ($5,000): Tricia Wingate
Third prize ($2,500): Henry Salas
This year's raffle raised more than $150,000! A big THANK YOU to everyone who supported this year's raffle.
Check the Fun-Raiser page for more information and photos from this year's event. Thank you everyone for helping to support the Medical Center's mission to "Provide Caring and Professional Medical Services and Health Education to the Ocean Reef Community." See you next season!