I Was Once a Versace Scarf …
Boutique D' Reef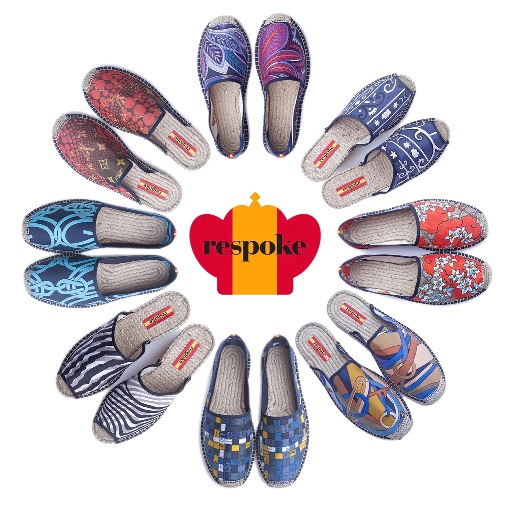 is back Feb. 28 to March 2, presenting unique and beautiful items from returning favorites as well as several exciting new vendors. Meet RESPOKE, CJ LAING AND COUPER … whose entrepreneurial talent have led them into the world of fashion and design.
RESPOKE features handmade and hand-sewn espadrille shoes from Spain – with a fun twist. Co-Founder Michael J. Tonello says, "Inspired by years of designer scarf collecting, I came up with the idea to repurpose my iconic scarves into beautiful espadrilles. After partnering with artist, graphic designer and branding expert Chris Bartick, we managed to find the very best team of multigenerational craftspeople in Spain, also known as the birthplace of espadrilles."
CJ LAING was founded in 2008 by Jack Laing and Alice Russell. Combining Jack's experience in designing and manufacturing clothing with Ali's artistic expertise, their joint business was born. Jack spent years living and working in India, Hong Kong and China, where he developed professional relationships and knowledge of where and how to support the finest artisans. Ali has a dual degree in art history and studio art. At the core of their business is a dedication to offering original and beautiful prints, embroideries and natural fabrics to suit women of all ages.
COUPER – After a decade in the Tech industry Caroline Gilroy sought out Agee Gretta Leinberry's corporate fashion experience and like-minded aesthetics. Co-Founders Gilroy and Leinberry say, "With our combined experience working for companies like Tory Burch, Salesforce, Rebecca Taylor and Veronica Beard, we knew the world didn't just need another fashion brand. It needed a platform that values limited edition, museum worthy exclusives produced predominately from material that otherwise go to waste."
There are only 11 more days until Boutique D' Reef! Remember, a percentage of all shopping and door proceeds go to benefit the Medical Center. Shop, shop, shop – till you drop! For more information, visit the Boutique D' Reef page.