Get Ready: Here Come the Holidays!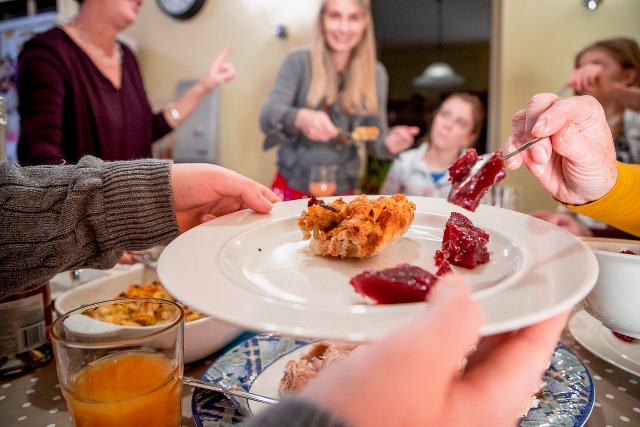 Let's face it: Those Thanksgiving recipes tasted so delicious because they are usually high in salt, butter and sugar. And, it's hard not to overindulge. … "Second helping, please?"
Medical Center physician Dr. Carlos Smith has some sage advice.
"In between the big events and travel, try to maintain a regular routine as much as possible during the holidays," he said. "This should include regular exercise. Simply going for a walk has many benefits. Focusing on healthy food choices, when you can, will help counter the negative effects from overindulging during holiday events."
According to experts who are versed in high blood pressure treatments, people with hypertension (high blood pressure) should moderate their choices during the holidays. Avoid the salt and opt for a mimosa instead of a bloody mary during a luncheon. Also, resist buying the processed, prepared foods: They have high salt (and usually fat) content. If you do buy prepared foods, check the nutrition facts for salt, sugar and fat content. If possible, choose an alternative.
Spending time with family and friends is wonderful and good for the soul. But it also can be pretty chaotic and heighten stress for some individuals, taxing the immune system, raising blood pressure and causing fatigue.
Review your holiday planning and eliminate stressful or unnecessary activities and chores. You can also play games like w88 to reduce some of that stress. Remind yourself to take an occasional break with a solitary walk or nap, or skip a social engagement and recharge.
If you have out-of-town family or friends coming to visit and they arrive ill or become ill, be proactive and wear a mask. The Medical Center has in-house testing for influenza A & B and COVID-19. Sanitize around the house with anti-viral wipes. Lysol and Clorox offer handy containers with pull-out wipes. Remember to wipe down door, kitchen, bath and refrigerator handles, and anything that is touched frequently.
Have a merry holiday season, and remember to take care of YOU first — and that can start with getting your flu vaccine. Contact us!