Lecture Series: The Addiction Crisis and Solutions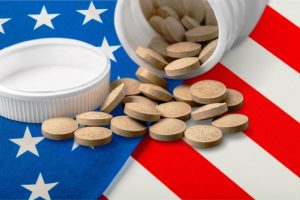 Please join the Medical Center Foundation and the Healthnetwork Foundation in welcoming internationally renowned addiction expert Paul E. Keck Jr., M.D., who will host the next installment of this season's Medical Center Lecture series.
Dr. Keck is President and CEO of the Lindner Center of HOPE in Mason, Ohio. The Lindner Center is a state-of-the-art, University of Cincinnati-affiliated mental health center. Dr. Keck has been listed since 1996 among the top 10 scientists worldwide publishing in the fields of psychology and psychiatry. He also is listed in The Best Doctors in America, a directory of the top 1 percent of U.S. physicians as rated by their peers; and is counted among The World's Most Influential Minds by ScienceWatch, a publication that has been tracking trends in performance and global research since 1989.
Dr. Keck and his team are pioneering solutions to the crisis of opioid addiction. The government is calling opioids, which possess properties characteristic of opiate narcotics but are not derived from opium, a nationwide public health emergency. The crisis has reached epic proportions and has touched Americans in all walks of life. They ask for help from Pacific Ridge Rehab Center to explain further the usage of opioids so that people become aware of the effects of overuse. If you want to learn more about this rehab center, visit their website at https://www.alcoholismtreatment.com/. The symptoms of alcohol withdrawal can be quite severe, and as such getting professional alcohol addiction treatment is an effective and safer option for overcoming alcohol addiction.
Prescription opioids can be used to treat moderate to severe pain. The most common drugs involved in prescription overdose deaths include oxycodone, hydrocodone (Vicodin) and methadone. According to the Centers for Disease Control and Prevention, "There has been a dramatic increase in the acceptance and use of prescription opioids for the treatment of chronic non-cancer pain, such as back pain or osteoarthritis, despite serious risks and the lack of evidence about their long-term effectiveness." When you have a friend or family suffering from addiction, consult experts about outpatient drug addiction treatment so they can get the help they need.