Cognivue Computer Now at the Medical Center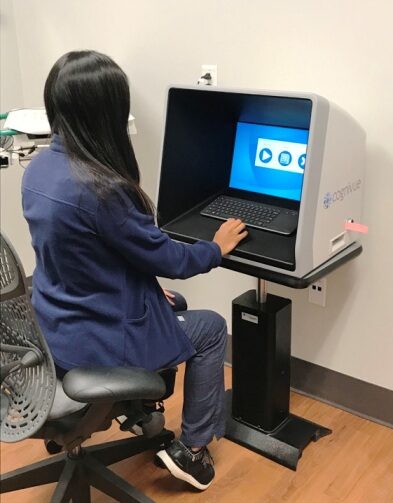 Early detection and treatment can be crucial in delaying the effects of early onset dementia and Alzheimer's disease, resulting in a higher quality of life for patients. A new computer that tests for cognitive impairments is available at the Medical Center.
University of Rochester Medical Center Neurologist Charles Duffy, M.D., Ph.D., has collaborated with the National Institutes of Health in the development of a computerized cognitive testing system. The system, called Cognivue, is covered by Medicare insurance and is the first of its kind to be FDA-approved.
Using the Cognivue computer, the patient performs a self-test that focuses on the four domains of the brain: Motor function, visual function, perceptual processing and memory.
The computer uses ten one-minute tests, each scored separately, to measure the patient's perception and memory of letters, words, shapes and motions, using abstract imagery as well as recognizable objects. In addition, it also tests for tracking movement and vision. The report is customized to the patient and prints an easily understood one-page report that contains a single score. The patient's physician then determines whether more in-depth neurological testing is required.
Early detection and treatment can make a difference! To schedule your Cognivue screening test at the Medical Center, please make an appointment with your Medical Center primary care physician.
Board-certified Neurologist Brad Herskowitz, M.D., is a visiting specialist at the Medical Center. He will be at the Medical Center on Dec. 3 and Jan. 7.
Reminder: Please bring your new Medicare card with you to your next appointment.